UH Team Receives Grant to Support Innovations in Irrigation
December 2019
A team at the University of Hawai'i at Mānoa has been awarded a $900,000 grant by the USDA's Natural Resources Conservation Service (NRCS) through a program that supports the conservation of private lands through funding projects centered in technology and innovation. The Conservation Innovation Grants (CIG) program awarded a total of $12.5 million in 2019 to 19 different projects addressing areas including water quantity, urban agriculture, pollinator habitat, and accelerating the pace and scale of conservation adoption. The goal of CIG is to foster innovation providing solutions to the most pressing issues facing farmers today, using science to support agricultural conservation and sustainability.
UH's project, "Forecasting daily reference evapotranspiration and rainfall for water resources conservation and sustainable agriculture," is led by principal investigators Dr. Sayed Bateni of the College of Engineering and the Water Resources Research Center (WRRC), Dr. Jonathan Deenik and Jensen Uyeda of the College of Tropical Agriculture and Human Resources, and Dr. Aly El-Kadi of the School of Ocean and Earth Science Technology and WRRC. The team aims to demonstrate how farmers can conserve water and be more effective in utilizing water resources by using an innovative new method to model and forecast daily rainfall and evaporation in irrigation areas. The approach centers on using an artificial neural network that breaks down the complex long-term time-series into simpler units, providing more accurate forecasting. — News release (modified) by Kim Perez Hults, UHM College of Engineering, December 20, 2019
WRRC and Hawai'i Sea Grant announce a special lecture: "Linking nearshore nitrogen chemistry to terrestrial environments using groundwater modeling and invasive seaweeds."
Speakers: Celia Smith Ph.D. (Professor, UH Mānoa Botany Department) and Robert Whittier, Environmental Health Specialist with the Hawai'i Department of Health. The lecture will be held on December 3, 2019, from 11:00am-noon in HIG #210.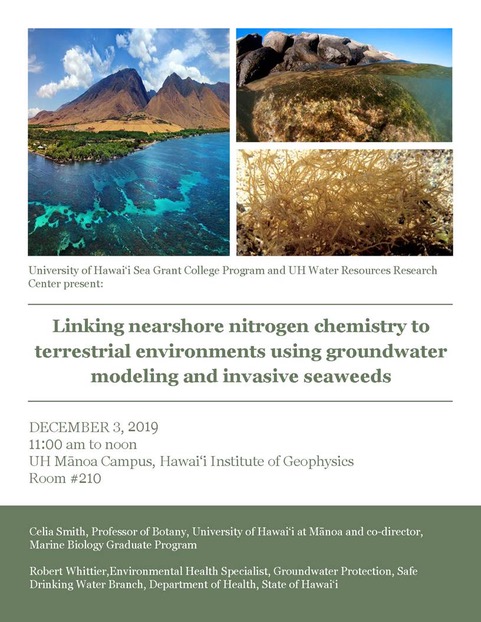 Congratulations to Dr. Niels Grobbe Winner of the Prestigious "Innovation Award" for Geophysics
Dr. Niels Grobbe was honored as the first place recipient of the "Innovation Award," presented at the Fifth International Conference on Engineering Geophysics (ICEG 2019, a collaboration with the Society of Exploration Geophysicists [SEG]), held in Al Ain, United Arab Emirates, October 21–24, 2019. His contribution entitled 'Seismoelectric Surface Wave Analysis for Characterization of Formation Properties, Using Dispersive Relative Spectral Amplitudes' was selected as the winning contribution after a highly competitive evaluation procedure, which included a 4-page extended conference abstract, a white paper, letters of recommendation, a 45 minutes presentation, and a 40 minutes Q&A.
As the first place winner, Dr. Grobbe was awarded $10,000.
Dr. Grobbe is an Assistant Researcher in hydrogeophysics and applied geophysics at the University of Hawai'i at Mānoa, and holds a joint position with the Water Resources Research Center and the Hawai'i Institute of Geophysics and Planetology. Dr. Grobbe would like to thank his colleague, Dr. Sjoerd de Ridder from the University of Leeds, United Kingdom, for collaborating with him on this exciting innovation.
Photos can be seen on:
Twitter: https://twitter.com/segmiddleeast/status/1186710788175749121?s=20
and
Linkedin:
https://www.linkedin.com/posts/niels-grobbe-64961451_iceg-innovationaward-seg-activity-6592477516961800192-JEvF
Thomas Giambelluca quoted in Honolulu Star-Advertiser
Dr. Thomas Giambelluca Joins WRRC as Director
The WRRC ohana is proud to announce the appointment of Dr. Thomas W. Giambelluca as its new Director, effective August 1, 2019. Tom succeeds Interim Director Darren T. Lerner, and together they have worked to make the leadership transition as seamless as possible. Tom has an impressive resume of research and accomplishments dealing with the challenge of global environmental change. With an academic background in geography and experience in a variety of leadership positions (most recently, the Associate Director of Social Science Research Institute) and research topics (such as climate variability, interaction between the atmosphere and land surface, and ecosystems), he is uniquely qualified to lead the Center as it moves forward to expand its research capabilities.
Summer 2019 WRRC Faculty Tenure and Promotions

Congratulations to Dr. Marek Kirs and Dr. Sayed Bateni who have achieved tenure and promotion appointments.

Marek Kirs, promotion to Associate Researcher – WRRC
Sayed Bateni, promotion to Associate Professor – WRRC and College of Engineering
Get Hands-on Hydrogeophysical Field Experience on Oʻahu
The University of Hawai'i at Mānoa Department of Earth Sciences, Hawai'i Institute of Geophysics and Planetology, and Water Resources Research Center offers Summer Fieldschool course: GG 699 Hydrogeophysics in Volcanic Environments.
This program aims to identify and quantify groundwater flow and its distribution in the old stream valley at Makapu'u on the island of O'ahu. Participants will be trained in a wide variety of multi-geophysical methods, including ambient noise seismics, nodal-based, true 3D electrical resistivity tomography, and self-potential.
The course covers the entire geophysical workflow, including data acquisition planning, data collection in the field, data processing, imaging, and hydrogeological interpretations. Special emphasis is on the integration of hydrogeophysical data and hydrologic modeling — a skill that is transferable to the reservoir scale in exploration geophysics. Participants will become familiar with the challenges and solutions for data acquisition and imaging in basaltic environments.
Varied Dates: June 2-22, 2019
Course Fee: $226
Course Info: Please contact Niels Grobbe: ngrobbe@hawaii.edu
or call 808-956-5857 for more information.
Register Now: www.summer.hawaii.edu
Registration Info: Please contact Alan Hunley, hunley@hawaii.edu
or call 808-956-3411 for more information.
Download GG 669 Course Flyer Here
WRRC Welcomes New Water Resources Outreach Specialist  
WRRC is pleased to welcome our newest faculty member, Michael Mezzacapo. He has a joint position with WRRC and the University of Hawaiʻi Sea Grant. As a Water Resources Outreach Specialist, Michael will play a critical role serving as a statewide and regional liaison to government organizations, resource managers, NGOs, community groups, and decision-makers to provide state-of-the-art research information, technology and tools. He will also work in partnership with university staff and stakeholders to develop programs to provide education and collaborative outreach to address pressing water resource challenges across the Pacific region.
Previously, Michael was the 2017-2018 Michigan Sea Grant Fellow at the International Joint Commission in Windsor, Ontario (Canada), where he assisted with public health research, science communications, and contributed to technical reports addressing transboundary water quality between the United States and Canada. Michael holds a Bachelor's degree from Widener University in Health Science and a Master's degree in Environmental Studies from Green Mountain College.
In his spare time, you can find him hiking, gardening, cooking and traveling with his partner Ashley. He is also a licensed helicopter pilot and hopes to complete his glider certification in the future.
Please join us in congratulating Michael on his appointment and welcoming him to our WRRC Ohana!
Dr. Roger Babcock Receives 2019 Engineer of the Year Award
Congratulations to Dr. Roger Babcock, Water Resources Research Center and Civil and Environmental Engineering professor, who was awarded the prestigious 2019 Engineer of the Year by the Hawaii Society of Professional Engineers. See featured article in Wiliki O Hawaii, February 2019.
Request for Proposals
Full Proposals due Friday, April 26, 2019 on eProjects for the 2020-2022 Grant Program for Hawai'i and American Samoa. REQUEST FOR PROPOSALS ARE NOW CLOSED
2020-2022 Request for Proposals
WRRC Researcher Sayed Bateni wins $980K USDA grant
Water Resources Research Center's Dr. Sayed Bateni has received a major award from the US Department of Agriculture's Conservation Innovation Grants program.