L. Stephen Lau Water Research Endowed Scholarship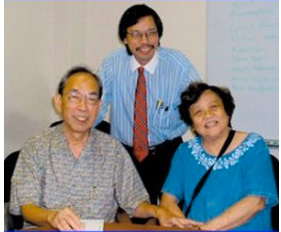 This scholarship was established with funds endowed to the University of Hawai'i at Mānoa by Dr. L. Stephen Lau and Mrs. Virginia May Lau of Honolulu. Dr. Lau is Emeritus Professor of Civil Engineering at the University of Hawai'i at Mānoa College of Engineering and was, from 1971 to 1990, director of the UH Water Resources Research Center.
The purpose of the scholarship is to further knowledge of Hawai'i's natural waters by providing financial assistance that may be used for anything related to costs of attendance or research.
Doak and Richard Cox Award
Endowment Honors First WRRC Director

Photo: Dr. Doak Cox and Mr. and Mrs. Richard and Hester Cox. (Photo provided by Evelyn Cox)
Richard H. Cox established the Doak and Richard Cox Award through the Water Resources Research Center (WRRC) at the University of Hawai'i at Mānoa (UHM). His generous monetary gift funded an endowment in honor of his late brother, Doak C. Cox, who is credited with founding WRRC and appointed its first Director from 1964 to 1970.
The brothers grew up in Kaua'i where their life-long respect for Hawai'i's 'āina (the land) was nurtured and encouraged. Their father's employment as an engineer at Kaua'i's McBryde Sugar Company inspired their interest in Hawai'i's water supply and how to preserve and protect the island's natural resources. They are among an integral group of Hawai'i professionals who understand and have been proactive addressing the water-related needs unique to Hawai'i.
Doak C. Cox earned his Master of Science degree in geology from Harvard University in 1941, and after a World War II interruption, was finally awarded his Ph.D. in 1965. After his years with the US Geological Survey from 1941 to 1945, he returned to Hawaii to work at the Hawaiian Sugar Planters Association (HSPA) as a geophysicist from 1946 to 1960 where he focused on water development and research dealing with water and geology.
His association with UHM began in 1960 as a professor of geology. Under his leadership at WRRC, he helped to develop the Center's long-term goals and research agenda, assembled a multi-disciplined core group of researchers to tackle projects such as the development of monitoring wells in the Pearl Harbor Aquifer, use of radio sounding to explore the islands' groundwater, and the behavior of pesticides with percolating water.
Among his additional accomplishments during his distinguished career at UHM, Doak was instrumental in creating the Environmental Center (EC) and was appointed its first director from 1970 to 1985. He also established the UH Hawai'i Institute of Geophysics (HIG) and founded the Tsunami Research Program at HIG. He served on many state task forces including as the tsunami advisor for the Hawai'i Civil Defense Division, and as a member of the Hawai'i Commission of Water Resource Management (CWRM) and the State Earthquake Advisory Board. In 2002, he was presented with the prestigious lifetime achievement award from the Hawai'i Academy of Sciences for his contributions to science and education.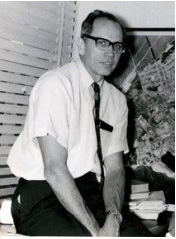 Richard H. Cox followed in his father's engineering profession and received his Bachelor of Science and Master of Science degrees in civil engineering from the California Institute of Technology (Caltech). After working from 1942 to 1946 as the Rock
et Range Supervisor at Caltech, Richard returned to Hawai'i where he was employed at McBryde Sugar Company and then Alexander & Baldwin (A&B). He rose to the position of vice president at A&B, with the land department, and retired after 40 years. He was the chair and commissioner for the CWRM from 1987 to 1990, and a member with the Hawai'i professional societies American Water Works Association (AWWA) and the American Society of Civil Engineers (ASCE).
A humble benefactor and a firm believer in education, he has provided many opportunities for young scholars to excel in their chosen fields at Caltech, UHM, and the East-West Center.
Richard is a supportive advocate for the Center's mission, and has been a part of the external advisory committee for the future of WRRC since Dr. L. Stephen Lau replaced his brother as the director in 1971. With his continued interest in the Center, he has attended many WRRC seminars and workshops, and has proven to be a constant source of support during UHMs reorganization efforts.
The Center is grateful and honored to receive this endowment to carry on the mission Doak began as director—to promote the understanding of critical water resource management and policy issues through science-based research, public education, and community outreach; and Richard's passion to support our young scientists. With the help of this donation, WRRC will continue to provide seminars and workshops, and opportunities for students, the future leaders in water and environmental research.