WRRC Environmental Microbiology Laboratory Instruments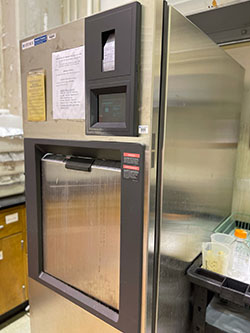 Amsco Century SG1-20 Scientific Gravity Sterilizer (Steris Corp.):
The autoclave is used to sterilize sampling equipment and microbiological media, as well as laboratory waste before disposal.
Axio Vert.A1 (Zeiss):
The Zeiss inverted microscope is used to analyze various microorganisms and other materials (e.g., sand, silt) present in water samples.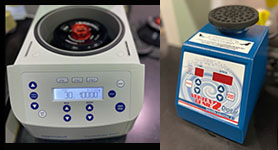 Centrifuges and Vortexes:
These instruments are used to mix and spin down various materials.
CFX96 Touch Real-Time PCR System (Bio-Rad Laboratories, Inc.):
Real-time PCR instrument used for detection and quantification of different groups of bacteria and viruses.
EZ-Fit® Vacuum Manifold for Membrane Filtration (Millipore Sigma):
This instrument allows up to 12 magnetic filter units for simultaneous use in our laboratory to filter samples for microbiological and other analysis.
Gel Doc XR System with Universal Hood II and Electrophoresis Equipment (Bio-Rad Laboratories, Inc.):
(a) Gel Doc XR System with (b, c) Universal Hood II and electrophoresis equipment (Bio-Rad Laboratories, Inc.). Nucleic acids move through agarose gel due to the current provided by power supply (b, c). DNA or RNA fragments (bands) are later visualized and sized using imaging system pictured on left (a).
Incubators:
Various groups of microorganisms can be grown at consistent temperatures (+/-0.5°C).
Mini-Beadbeater-8 (BioSpec Products, Inc.):
A high-energy cell disrupter essential for DNA and RNA extraction protocols of our laboratory.
Portable Multi-use Automated Concentration System (PMACS):
A fully automated devise that concentrates microorganisms (i.e., bacteria, viruses) from large sample volumes (typically 100L and above).
Purifier Class II Biosafety Cabinet (Labconco Corp.):
The biosafety cabinet protects both the samples and environment when handling microbial cultures.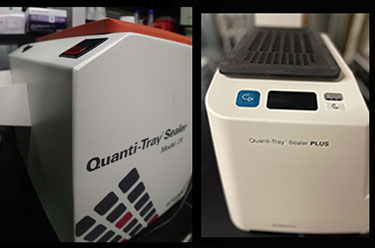 Quanti-Tray Sealer (IDEXX):
Trays of water and soil samples are sealed in the Quanti-Tray Sealer when Colilert18 and Enterolert tests are used to derive total coliform, Escherichia coli, and enterococci concentrations.
Qubit 2.0 Fluorometer (Thermo Fisher Scientific):
The fluorometer is used to determine total DNA, RNA, and protein concentrations. Our laboratory uses it to quantify DNA standards and when preparing barcoded sequencing libraries.
Research Plus (Eppendorf) Pipetters:
Pipettes are an essential instrument used for microbiological analyses for liquid handling in the laboratory.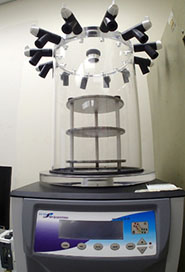 Sentry 2.0 Lyophilizer (SP Scientific):
This instrument is used to freeze-dry (lyophilization) microbial cultures.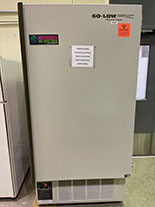 Ultra-low Freezer (So-Low):
The freezer is used for long-term storage of microbial cultures and samples.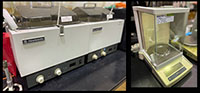 Water Baths and Scales:
Water baths and scales for general laboratory use.