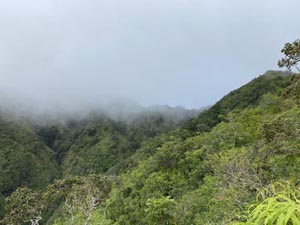 To become better stewards of Hawai'i's natural resources, we need to understand the challenges facing the state, especially to protect and manage our water. In a recent interview with Hawaii Now, Dr. Victoria Keener and Dr. Tom Giambelluca spoke about managing the climate risks in the Pacific Islands. Dr. Keener is the co-lead principal investigator for the Pacific RISA (Research on Island Solutions for Adaption) and Dr. Giambelluca is the principal investigator for the Hawai'i Mesonet (a statewide advanced weather and climate monitoring network), and Water Resources Research Center director.
Dr. Giambelluca said, "We have to be careful stewards of our water. We have only the water on the islands. We can't import water from a neighboring state. And that means being aware of possible sources of contamination."
HI Now Interview (June 27, 2023):  https://www.hinowdaily.com/2023/06/27/pacific-risa-program-manages-climate-risks-pacific-islands/  |  NOAA Awards $6.36M to Support Pacific Climate Change Resilience (October 2021): https://www.wrrc.hawaii.edu/noaa-awards-6-36m-to-support-pacific-climate-change-resilience/
To learn more about Pacific RISA: https://www.pacificrisa.org/
Photo: Kuliʻouʻou Ridge, Oʻahu (courtesy of Aimee Schriber).