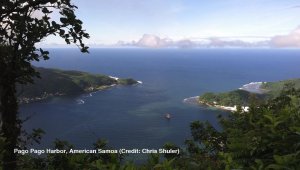 Global climate change is increasingly linked to extreme weather conditions such as floods, droughts, heatwaves, and wildfires. To address this issue, the US National Oceanic Atmospheric Administration (NOAA) awarded $6.36M over five-years to support research providing communities in the Pacific region with solutions to build climate resiliency.
Pacific RISA, one of eleven US RISA programs, emphasizes engaging the community, government, and business stakeholders to develop effective policies in building resilience in key areas such as water resource management, coastal and marine resources, fisheries, agriculture, tourism, disaster management, and public health.
To meet these needs, the University of Hawaii at Manoa (UHM) Water Resources Research Center (WRRC) is collaborating with the East-West Center (EWC), Arizona State University (ASU) and other stakeholders to implement the next phase of the ongoing Pacific Regional Integrated Science and Assessment (Pacific RISA) program. With the additional funding, Phase IV "Building Equitable and Just Climate Solutions for Pacific Island Resilience to Compound Disasters and Extreme Events" will focus on regional and specific climate challenges facing Hawaii and the US-Affiliated Pacific Islands (USAPI), which includes two US Territories (American Samoa and Guam), the Commonwealth of the Northern Mariana Islands, and three independent countries (the Republic of Palau, the Republic of the Marshall Islands, and the Federated States of Micronesia).
Thomas Giambelluca, UH WRRC director stated "With all the recent news of catastrophic extreme weather globally, nationally and here in Hawaii, the Pacific RISA project's focus on climate-change-driven extreme weather events in Hawaii and the USAP is both timely and critically important to decision makers and communities in the region. The UH has a major responsibility, as the research center for the Pacific, to bring scientific expertise to bear on critical issues surrounding climate change adaptation."
To work on building community resilience, Phase IV will host peer-to-peer exchanges between project participants and strive to maintain and expand Pacific RISA's role as a source of use-inspired research and as a trusted climate boundary organization. The focus will be to address how the stakeholders can support and develop sustainable, equitable, and just climate solutions that increase resilience to compound disasters and extreme events.
Christopher Schuler, UH WRRC researcher with a RISA project added, "It's great that as a society, we are finally getting to a place where everyone recognizes that climate change is real. Now, we're left with the question of how to manage it."
More information on the Pacific RISA program can be found at:  www.PacificRISA.org
UH News NOAA award news release:  https://www.hawaii.edu/news/2021/09/30/pacific-climate-change-resilience-grant/