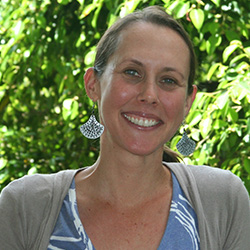 OFFICE: SAUNDERS HALL 504
PHONE: (808) 956-7938
E-MAIL: LBREMER@HAWAII.EDU
RELATED WEB PAGE: VIEW
EDUCATION:
PhD, Geography, 2012 University of California at Santa Barbara – San Diego State University
MS, Conservation Biology, 2004 Victoria University of Wellington, New Zealand-Macquarie University, Australia
BA, Psychology (Spanish minor), 2001 Northwestern University
FIELDS OF INTEREST:
Ecosystem services
Social-ecological systems
Watershed management and conservation
Joint social and ecological outcomes of land-use and climate change
Water resources
Dr. Leah Bremer's work focuses on interdisciplinary, applied, and problem-driven research related to water and watershed policy and management. As a geographer and conservation scientist by training, she views social and environmental challenges and solutions as intricately inter-connected. She collaborates with teams of researchers, community groups, agencies, non-profits, and others to co-produce knowledge with the goal of informing effective and equitable decision making. Her research focuses on three inter-related themes: (1) illuminating the links between people and the environment (including watersheds) through various lenses, including ecosystem services, biocultural restoration, and inclusive valuation; (2) improving land and water management decisions to account for the multiple ways people use and value land and water, including links to groundwater dependent ecosystems; and (3) critical evaluation of the social and ecological outcomes of ecosystem services policies and programs (e.g., payments for watershed services) with the goal of improving program effectiveness and equity.
Dr. Bremer holds joint appointments with the Water Resources Research Center and the UH Economic Research Organization (Environmental Policy and Planning Group). She is a collaborating faculty with the Department of Geography and Environment, the Department of Natural Resources and Environmental Management, and the Biocultural Initiative of the Pacific. Dr. Bremer is also a research fellow with Fundación Cordillera Tropical, an NGO in Ecuador.
Dr. Bremer currently works on a variety of projects in Hawaiʻi (primarily) and Latin America:
ʻIke Wai—Securing Hawaiʻi's Water Future
Co-lead of the social science team, a large interdisciplinary project on groundwater management for two aquifers in Hawaiʻi—Pearl Harbor aquifer on Oʻahu and Hualālai aquifer on Hawaiʻi Island. The team focuses on understanding the ways people use and value groundwater and dependent ecosystems and incorporating this information into future water and watershed management in a context of climate, land use, and water use change.
Restoration of Multi-Functional Agroforests (He'eia, O'ahu)
Collaborative research with the community-based non-profit Kākoʻo ʻŌiwi, using a biocultural approach. This includes monitoring of plant richness and cover, soil carbon, soil health, and cultural and economic outcomes.
Quantifying the Groundwater Recharge Benefits of Watershed Conservation
Collaborative research with The Nature Conservancy, Hawaiʻi County Department of Water Supply, and Hawaiʻi Community Foundation freshwater council to quantify the benefits of watershed protection spatially.
Rangeland Ecosystem Services
Collaborative work with an interdisciplinary team of researchers and ranchers across Hawaiʻi to understand and express the range of ecosystem services provided by rangelands (which cover 20% of Hawaiʻi's terrestrial area).
Payments for Ecosystem Services and Water Funds in Latin America
Dr. Bremer spent nearly ten years working with services in the Andes and Brazil during her dissertation and post-doctoral research (with the Natural Capital Project), which focused on understanding the combined social, biodiversity, and ecosystem service (water and carbon) outcomes of Payments for Ecosystem Services programs. She continues this work through an interdisciplinary, international research project funded by the Belmont Forum focused on understanding the social and hydrological outcome of water funds now and under a changing climate.
Dr. Bremer earned her Ph.D. in Geography from the University of California at Santa Barbara—San Diego State University. She was awarded a Fullbright grant for her dissertation research. She earned an M.S. in Conservation Biology from Victoria University in Wellington, New Zealand and a B.A. in Psychology from Northwestern University in Chicago, Illinois.
Click here for Leah Bremer Faculty Spotlight
Leah Bremer 2021–2022 Publications