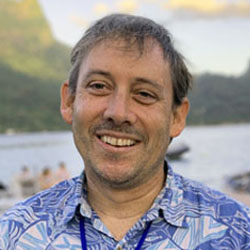 OFFICE: Center for Microbial Oceanography: Research and Education
PHONE: (808) 956-0566
E-MAIL: cen@hawaii.edu
RELATED WEB PAGES:
VIEW #1
EDUCATION:
PhD, Ecology, Evolution and Marine Biology, University of California, Santa Barbara, 2008
BA, Integrative Biology & English, University of California, Berkeley, 1998
FIELDS OF INTEREST:
Microbial ecology of aquatic ecosystems (coral reefs, oceanic gyres, alpine lakes)
Dissolved organic matter biogeochemistry
Comparative phylogenetics and metagenomics of bacterial communities
Landscape biogeochemistry and ecosystem metabolism
I am interested in how microbial communities control ecosystem processes in aquatic habitats. I am particularly interested in the role of microbes in transforming the complex mixtures of organic compounds and metabolites that comprise dissolved organic matter in the ocean, rivers and lakes. I work primarily on bacterioplankton but also study the microbiomes of many different host organisms, including coral, algae, fish and invertebrates in marine habitats.