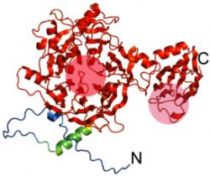 New studies on nitrous oxide (N₂O) were published recently by Dr. Zhiyue Wang, a recent addition to the WRRC 'Ohana, and his research group. A life cycle assessment study was conducted on a novel biological process harvesting N₂O from wastewater for nutrient removal and energy production. Resulting environmental impacts and carbon emission showed a promising potential as a sustainable treatment process. In addition, various microbes were screened for their speed and capability of reducing N₂O under anaerobic and aerobic conditions. Certain strains were found to be tolerant to oxygen, and therefore excellent candidates for bioremediation of greenhouse gas emissions in both engineered and natural systems.
Photo 1: The predicted enzyme model of nitrous oxide reductase in Stutzerimonas stutzeri ZoBell, an oxygen tolerant strain for N₂O reduction.
Photo 2: A pilot-scale nitrous oxide recovery process at the Delta Diablo wastewater treatment facility, Antioch, CA.
View articles at:
Zhou, Hao, Zhiyue Wang, Siyi Pan, Pouya Rezazadeh Kalehbasti, and Weijun Zhang, January 2023. Benchmarking sidestream shortcut nitrogen removal processes against nitrous oxide recovery from a life cycle perspective. Journal of Cleaner Production, 384, 135530, https://doi.org/10.1016/j.jclepro.2022.135530
Wang, Zhiyue, Nisha Vishwanathan, Sophie Kowaliczko, and Satoshi Ishii, March 2023. Clarifying microbial nitrous oxide reduction under aerobic conditions: Tolerant, intolerant, and sensitive. Microbiology Spectrum, Open Access, https://doi.org/10.1128/spectrum.04709-22