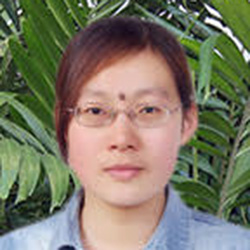 Office: POST 409F
Phone: (808) 956-5019
Email: luox@hawaii.edu
Related web page: View
EDUCATION:
PhD, Atmospheric Sciences, Nanjing University, Nanjing, China, 2016
BS, Atmospheric Sciences, Nanjing University of Information Science and Technology, Nanjing, China, 2011
FIELDS OF INTEREST:
Monsoon dynamics
ENSO diversity
Climate change
Seasonal climate prediction
Upper-level jets' variability
Dr. Xiao Luo's academic background lies in atmospheric sciences, subseasonal-seasonal prediction and predictability of rainfall, temperature, climate extremes, and climate change. Her research involves developing a physical-empirical model to improve the number of extremely cold day prediction over East Asia; understanding the secular change of Asian precipitation-ENSO relationship; unraveling the historical ENSO diversity during the past century and its future change; evaluating CMIP6 models' performance in simulations and the future projections of the Asian precipitation and investigating the seasonality of ENSO's teleconnection and the associated impacts on global hydroclimate and the extremes. Dr. Luo's current work also includes simulation of record-breaking extreme rainfall events in Hawaii.