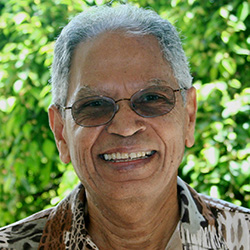 E-MAIL: ELKADI@HAWAII.EDU
RELATED WEB PAGE: VIEW
EDUCATION:
PhD, Groundwater Hydrology, School of Civil and Environmental Engineering, Cornell University, Ithaca, New York, 1983
MS, Surface Water Hydrology, Ain Shams University, Cairo, Egypt, 1976
BS, Fluid Mechanics and Hydraulics, Ain Shams University, Cairo, Egypt, 1971
FIELDS OF INTEREST:
Watershed modeling and analysis
Application and assessment of various types of groundwater models
Modeling multiphase flow and transport of hydrocarbons
Numerical modeling
Flow and transport in field soils
Databases and geographic information systems
Bioremediation in tidal aquifers
Contamination by agricultural and cesspool sources
Aly I. El-Kadi is a Professor of hydrology in the department of Geology and Geophysics. His teaching and academic interests focus on hydrogeology and groundwater modeling. Professor El-Kadi is also a researcher at the Water Resources Research Center where his research interests cover a wide range of topics including climate change effects on water resources sustainability, numerical modeling, and modeling multiphase flow and transport of hydrocarbons.
Professor El-Kadi is the Associate Director (2000-2018) of the Water Resources Research Center, which serves the state of Hawaiʻi and other Pacific islands by researching water-related issues distinctive to the region. He is also a member of the ʻIke Wai leadership team, a National Science Foundation (NSF) Experimental Program to Stimulate Competitive Research (EPSCoR) project that aims to increase understanding of Hawaiian island hydrology to provide improved data for decision-making tools that address the challenges to water sustainability from climate variability, increasing population demands, and water contamination. His current research for the project covers goundwater modeling and studying the increasing stress placed on Hawaiʻi's aquifers due to factors associated with population growth, economic development, and climate change. Professor El-Kadi's work expands beyond Hawaiʻi to include projects in American Samoa and Guam where he is researching real-time optimization of irrigation scheduling for farmlands through funding provided by the USDA Natural Resources Conservation Service.
Professor El-Kadi earned his Ph.D. in Groundwater Hydrology from the School of Civil and Environmental Engineering at Cornell University in Ithaca, New York, an M.S. in Surface Water Hydrology from Ain Shams University, and a B.S. in Fluid Mechanics and Hydraulics from Ain Shams University located in Cairo, Egypt.
Hydrologic datasets are essential for the design of sustainable water supply systems and the prediction or detection of acute threats to drinking water quality or availability. We developed a hydrologic monitoring network consisting of 21 instruments including weather stations, stream gauges, and monitoring well dataloggers on the Island of Tutuila, American Samoa.