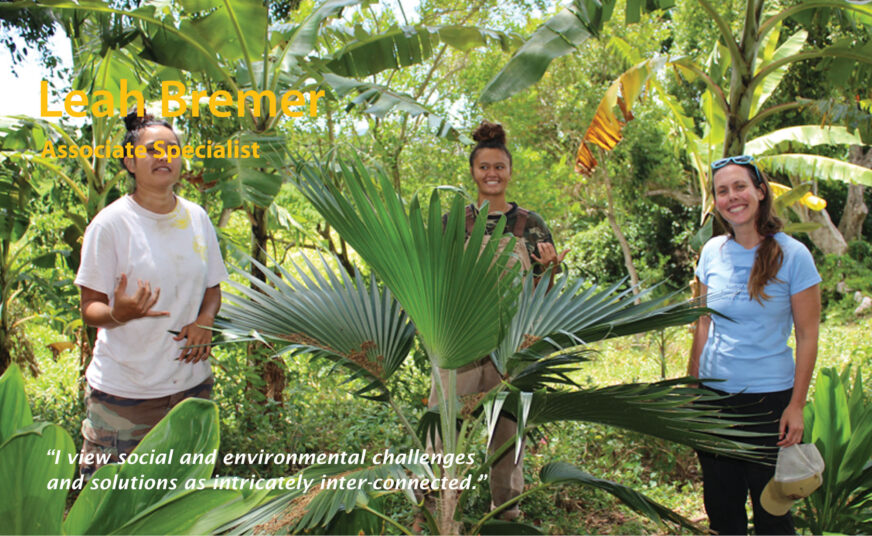 Leah Bremer
______________________________________________________
I view social and environmental challenges and solutions as intricately inter-connected.
Dr. Bremer's background as a geographer and conservation scientist enables her to view social and environmental challenges from a unique perspective and to propose inter-connected solutions to water and watershed policy and management. She is able to focus on interdisciplinary, applied, and problem-driven research with collaborative teams of researchers, community groups, agencies, non-profits, and others to achieve informed, effective, and equitable decision making. Through her joint appointment with WRRC and UHERO, Leah is able to channel her considerable experience in a variety of research projects. Leah also enjoys teaching as a way to connect with students and learn from their enthusiasm and perspectives on environmental and social challenges. 
EDUCATION 
BA, Psychology, Northwestern University

 

MS, Conservation Biology, Victoria University of Wellington, New Zealand-Macquarie University, Australia

 

PhD, Geography, University of California at Santa Barbara – San Diego State University

 
INTERESTS 
Ecosystem services and social-ecological systems

 

Watershed management and conservation

 

Joint social and ecological outcomes of land-use and climate change

 

Water resources

 
CURRENT PROJECTS 
Linking watershed and groundwater management to groundwater dependent ecosystems and their linked ecological, cultural, and socio-economic values

 

Enhancing social-ecological resilience and ecosystem services through restoration of coastal agroforestry systems

 

Land-based solutions: Activating landscapes for climate change mitigation and soil health