J. ULUWEHI HOPKINS, RECIPIENT OF THE 2021 L. STEPHEN LAU SCHOLARSHIP
The most recent recipient of the L. Stephen Lau Water Research Endowed Scholarship is J. Uluwehi Hopkins. Her winning research proposal focused on the community aspects of water rights and management by exploring the regulations and laws used in Hawai'i prior to western influence, during the transition from Hawaiian to Western-based legal codes, and after those laws were applied.
Ms. Hopkins is a PhD candidate in History with a focus on the history of Hawai'i. She earned her B.A. and M.A. in Hawaiian Studies from the University of Hawai'i at Mānoa and has been teaching at both Mānoa and UH West O'ahu for several years. Her Master's Thesis was on Emma Nakuina, the only female Commissioner for Private Ways and Water Rights in the Hawaiian Kingdom and during the Republic era, which led to her exploration of water and the human environment.
---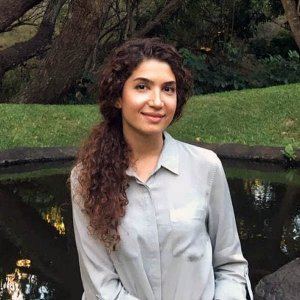 HELALEH KHOSHKAM, RECIPIENT OF THE 2021 DOAK AND RICHARD COX AWARD
In recognition of her innovative research protecting Hawaii's precious water resources, Helaleh Khoshkam was honored with the Doak and Richard Cox Award. Her research using novel approaches to forecast evapotranspiration and rainfall will benefit Hawaii's farmers with real-time decisions for optimal irrigation scheduling and efficient water resources management. In addition to irrigation scheduling and water use efficiency, the project should reduce farmers' cost of water and labor, and increase the net returns by enhancing crop yields and quality.
Helaleh was accepted into the Fall 2021 Ph.D. program at the University of Hawai'i at Mānoa Department of Civil and Environmental Engineering. She has both a BS and an MS degree in Civil and Environmental Engineering. The objective of her research is to demonstrate how farmers can conserve water and be more effective in utilizing water resources by implementing an innovative new method to model and forecast daily rainfall and evaporation in irrigation areas, while supporting the local food production, and reducing the cost of vegetable crops in Hawaii.