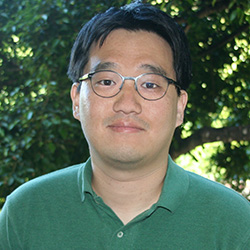 Jonghyun Harry Lee
Assistant Professor, Water Resources Research Center
Assistant Professor, Civil & Environmental Engineering
Office: Holmes Hall 336
Phone: (808) 956-7658
E-mail: jonghyun.harry.lee@hawaii.edu
EDUCATION:
PhD, Civil and Environmental Engineering, Stanford University, 2014
MS, Civil and Environmental Engineering, Colorado State University, 2009
BS. Civil, Urban and Geosystem Engineering, Seoul National University, 2007
FIELDS OF INTEREST:
Groundwater flow and reactive transport modeling in high performance computing environment and model upscaling
Numerical linear algebra
Large-scale inverse modeling with uncertainty quantification
Optimal control and stochastic optimization of water resources system
Big environmental data analysis with machine learning
Jonghyun Harry Lee is an Assistant Professor of Civil and Environmental Engineering and Water Resources Research Center, teaching groundwater engineering, inverse theory, optimization, and near-shore hydrodynamics. He is also an Oak Ridge Institute for Science and Education Faculty Fellow.
Professor Lee's research interests focus on optimal management of water resources system integrating modeling, characterization, and optimization with big environmental data. He is currently working on 'Ike Wai, a National Science Foundation (NSF) Experimental Program to Stimulate Competitive Research (EPSCoR) project that aims to build knowledge of Hawaiʻi's freshwater resources. His research focuses on groundwater flow and reactive transport modeling and geology characterization in Hawaiian aquifers, and aquifer recharge and recovery. Professor Lee's other research projects have focused on groundwater contaminant remediation, reactive transport modeling of trace organic chemicals, geochemical heterogeneity characterization, riverine and nearshore bathymetry identification, and multiphysics modeling of hydrogeophysics and hydromechanics. These projects have been funded by the NSF, US Army Corps of Engineers, and the Department of Defense's (DOD) Strategic Environmental Research and Development Program (SERDP). Professor Lee has also contributed to the development of engineering software including the Stochastic Cost Optimization Toolkit (SCOToolkit), a practical tool to assess and optimize the design and operation of remediation systems for groundwater contaminated with chlorinated solvents and other dense non-aqueous phase liquids (DNAPLs). In addition, he has developed public domain software.
Professor Lee earned his Ph.D. in Civil and Environmental Engineering from Stanford University, in Stanford, California. He earned an M.S .in Civil and Environmental Engineering from Colorado State University in Fort Collins Colorado and a B.S. in Civil, Urban and Geosystem Engineering in Seoul, South Korea.