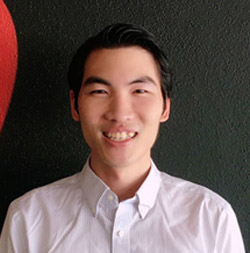 PRAKIT SAINGAM, RECIPIENT OF THE 2020 L. STEPHEN LAU SCHOLARSHIP
I am very grateful to receive the 2020 L. Stephen Lau Water Research Endowed Scholarship. The scholarship will significantly help to support my PhD study at the Department of Civil and Environmental Engineering, University of Hawai'i at Mānoa dealing with enterococci and the effect on humans, water monitoring, and the management of water quality.
My educational background began in Bangkok, Thailand. I have been fascinated by the diversity of microbes and their useful applications. In college, I majored in biotechnology and benefitted from experiencing the various disciplines of microbiology. For my graduate studies (Master's and PhD), I chose to pursue environmental microbiology following my inspiration to apply the knowledge of microbiology to help sustain a clean environment and protect the public health. My research interest is the microbiological quality of waters based on direct pathogen detection. I would like to pursue a career as a researcher and contribute to the field of water quality monitoring.
AHMED AFIFI, RECIPIENT OF THE 2020 DOAK AND RICHARD COX AWARD
Ahmed Afifi, the first recipient of the prestigious Doak and Richard Cox Award, is conducting research using novel approaches to forecast evapotranspiration and rainfall for the benefit of Hawai'i's farmers and thereby protecting our precious water resources. The real-time decisions on irrigation scheduling are primarily made based on the agricultural water demand (which strongly depends on evapotranspiration) and rainfall predictions. Hence, accurate forecasting of evapotranspiration and rainfall plays a key role in optimal irrigation scheduling and efficient management of water resources. The benefits of this project are (1) scheduling irrigation to optimize crop water use efficiency, (2) reducing farmers' cost for water and labor, and (3) increasing net returns by enhancing crop yields and quality.
This summer, Ahmed will receive an MS degree in Civil and Environmental Engineering from the University of Hawai'i at Mānoa, and will enter the PhD program in Fall 2020. He has a bachelor's degree in construction engineering from the American University in Cairo (AUC) and a master's degree in environmental law from the University of Denver Sturm College of Law (DU). His passion for water resources emerged while he was an intern with the United Nations Development Programme (UNDP) focusing on regional water conflicts. His goal is to "further develop water resources forecasting and management plans that would initiate cooperation rather than fuel conflicts."